Click here to view my first collection of Tweets, or visit my Twitter page.
Whenever I fail at something, I imagine myself as a young Babe Ruth striking out.
Everyone has hurt someone. So we may as well either preemptively hate everyone or forgive everyone.
It defeats the purpose of getting/having/keeping someone in your life if you have to go out of your way to live up to their expectations.
Everytime you feel you've won an argument, there's a 50/50 chance you just dogmatically defended your completely wrong self-serving delusion.
When you're ready for meaningful change to happen in the world, stop watching meaningless, petty movies, TV shows and Youtube channels.
Just once I'd like to hear an American president address the fact that Americans live in constant fear of their own police force.
Instead of having a Republican and Democratic party, how about a Male and Female, or Young and Old, or Employer and Employee, or anything else?
White people aren't the source of the world's historical or modern systemic problems. Capitalists are. The problem is greed, not race.
When I hear people say, "I'm tired of hearing people talk about Trump," I think, "Not talking about politics is how we ended up with Trump."
Trump had the same effect on Americans talking about politics that J.K. Rowling had on kids reading books.
Why don't liberals like Trump? They're either biased or they see the same objective reasons the rest of the entire fucking world does.
I bet we could reduce the number of panic attacks in America by at least 80% by not requiring everyone to live in almost constant debt.
When men don't get pussy, they turn into werewolves. When women don't get dick, they turn into banshees.
I'm starting to suspect Trump has been on a coke bender since he got elected and hasn't slept the whole time he's been in office.
With everything wrong in the world today, you'll explode if you don't master the art of being mad without feeling mad.
Our culture is a patriarchy designed to oppress and degrade women, said no florist on Valentine's Day ever.
Failure = practice.
It's not male politicians holding women's liberation back. It's religious politicians.
When I hear how much it cost to make a movie, I wonder how many farms and homeless shelters humanity could have built instead.
You are not the sum of the way people have treated you.
Feminism had me at gender equality but lost me at kill all the white men.
Most Americans are more intensly and frequently afraid of seeing an American cop or doctor than a foreign terrorist.
Most Americans haven't been to Europe, Africa or the Middle East, but most of them have been to their local police station.


I want my tax dollars to be spent paying a group of writers to write a book titled, "Survival Guide to Life."
Relationships are mazes, not train tracks. There's no backtracking in a maze. There's only moving forward with what you've learned.
Every year on Super Bowl Sunday I celebrate sanity by not watching the Super Bowl.
Masturbating is like cooking. You can prepare a fine meal or grab a burger to go. Call me crazy, but I prefer Thanksgiving over fast food.
We should start calling social justice warriors, "The Alt-Left."
If America must spend billions of dollars giving stuff away for free, medical texts books should be near the top of the list.
It defeats the purpose of ingesting something if it has zero calories.
"Experience has taught me that you only have two options in life:
1. Kick life in the balls.
2. Get kicked in the balls by life."
I'm going to start periodically posting "words of the day" that are good to know. Today's word is,"splinternet."
Women obsess over men pleasing them emotionally, and men obsess over pleasing women physically. #oops
It's worth noting that, while Trump got sworn in as president, thousands of Americans were reading my blog about how to go down on a girl.
My blog, "How to go down on a girl" got 100k views today. If you haven't read it, you're missing out.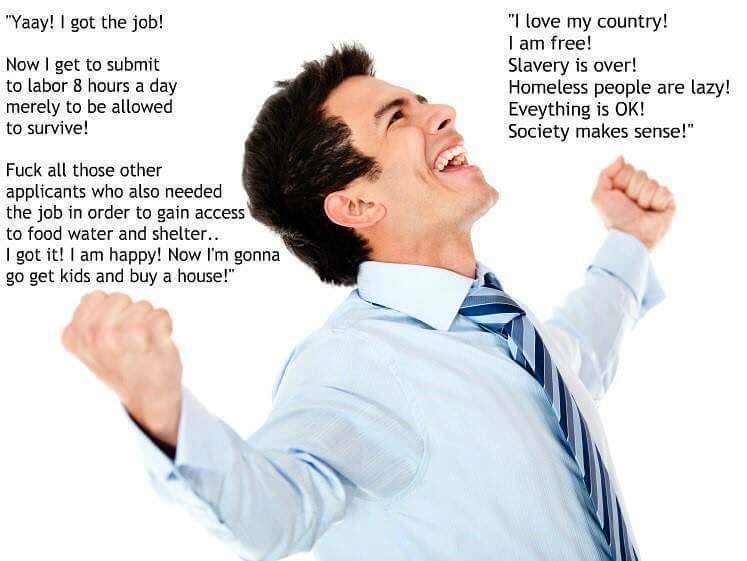 You deserve more kudos than the world gives you. Don't resent it. Just know it.
"Step 1: Give someone advice. Step 2: Listen to why they're not going to take it."
The rich fear bankruptcy more than bullets. If you want to motivate a rich person, then "speak their language."
If only allowing current high school honor students to serve in Congress would seriously make America better, then why not seriously do it?
Raising taxes on addictive substances works every time… at making addicts poorer and/or turning to cheaper, more dangerous substitutes.
Getting mad at people when you don't get what you want usually indicates you're the selfish bad guy, and your enemy is the real victim.
Your character is reflected and created by what you talk about. This applies to your social media posts too. Share genius or be foolish.
People only argue semantics when they don't have a real argument.
Everyone could eliminate at least half their problems by just shutting their mouth and not bitching and complaining about bullshit.
Science is just drawing conclusions from evidence. The only time people hate evidence-ology is when they're refusing to admit they're wrong.
We have 50 names for sexual orientations, but if you put anyone alone on an island for the rest of their life with anything, they'll fuck it.
Nowadays, every time I drink milk I wonder what percentage of the bouquet of flavors I've come to know and love is the taste of udder pus.
We're going to feel real sheepish if it turns out life was never anything more than just a birthday present from God.
This is an actual book you can buy on Amazon: President Domald Loch Ness Tromp Pounds America's Butt
If you don't think happy thoughts when things suck, then life is just pretty much always going to suck.
The fastest, easiest, best shortcut to climbing a mountain, still usually involves climbing a mountain.
To the extent I'm disappointed in America voting for Trump, I'm proud of them for not voting for Clinton.
If you're going to boycott companies associated with Trump, boycott the RNC and DNC. Don't keep paying the people who got us here.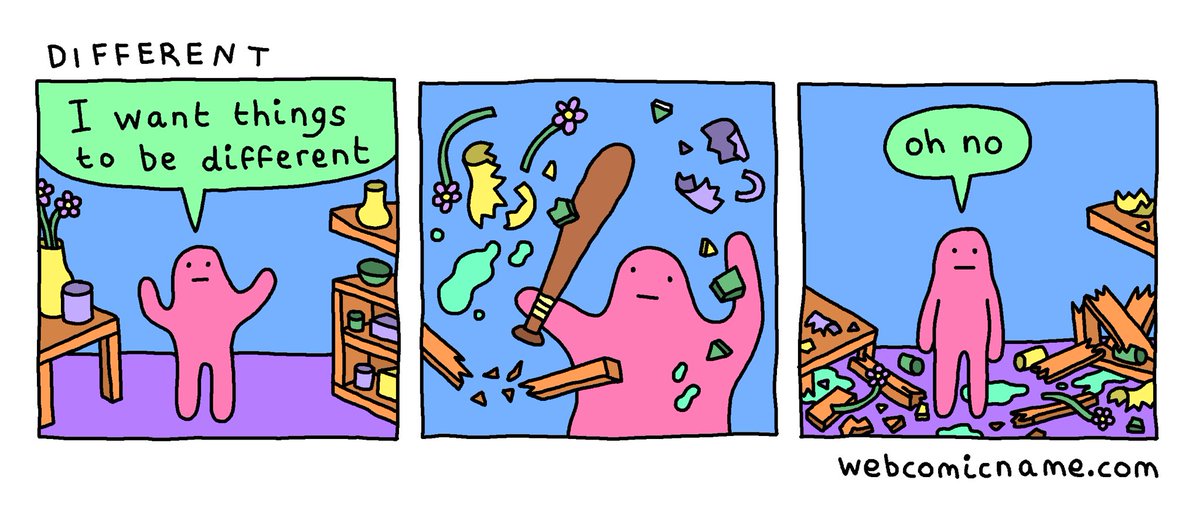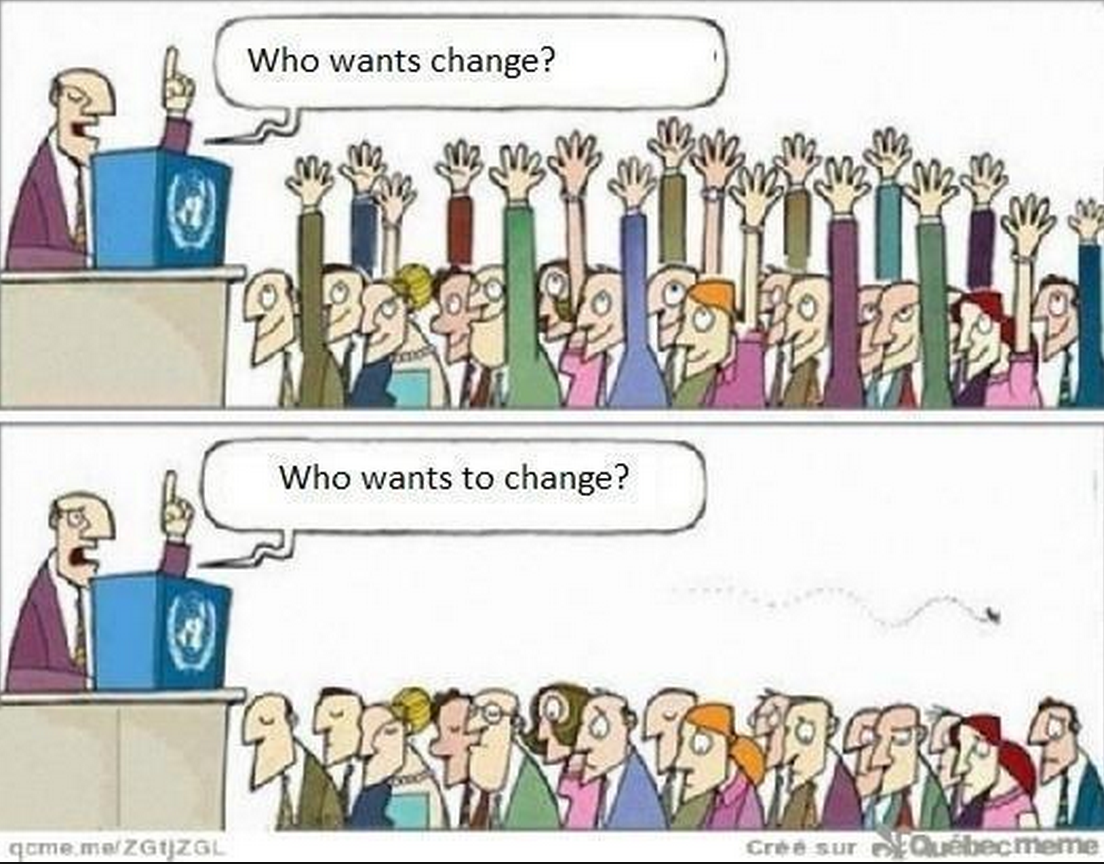 Would someone please invent a website that exports my Twitter, Reddit, Facebook and Medium feeds into one scrolling wall?
Blind faith is more likely to lead you over a cliff than to the promised land.
Trump isn't the problem. He's a symptom of capitalism. Even if liberal Democrats could "beat" him, capitalism will send us more like him.
Instead of using school time to teach kids how to celebrate nonsensical holidays, let's teach them how to solve problems during that time.
Learning how to overcome fear is more important than learning the quadratic equation. Yet schools are more likely to teach the latter.
Obama acting nonchalant about the first black president handing over power to a mentally unstable bigot, demonstrates his mastery of lying.
Hillary Clinton telling all Americans to just go with Donald Trump's flow proves she couldn't care less about the American people.
Trumps promises in his acceptance speech would have been more reassuring if he didn't speak like a confused, semi-literate child.
The smile on Hillary Clinton's face during her concession speech demonstrates her mastery of the art of lying in public with a straight face.
Trump's plan to make America great again may as well have been to start a civil war, because it looks like that's what he'll do.
If you don't like America, then leave. Oh, wait. You can't, because America's oppressive economy keeps you living paycheck to paycheck.
Right now I'm more proud to have a permanent residency visa to New Zealand than I am to be an American citizen.
I told friends jokingly I would prefer a Trump presidency over Clinton because he'll bring a quicker apocalypse. The joke isn't as funny now America elected a joke for president. Now the joke is on the American people.
Nobody who is laughing today will be laughing 4 years from now.
I've been saying for a year Hillary would win because of corruption. Turns out the system is less corrupt and more stupid than I thought.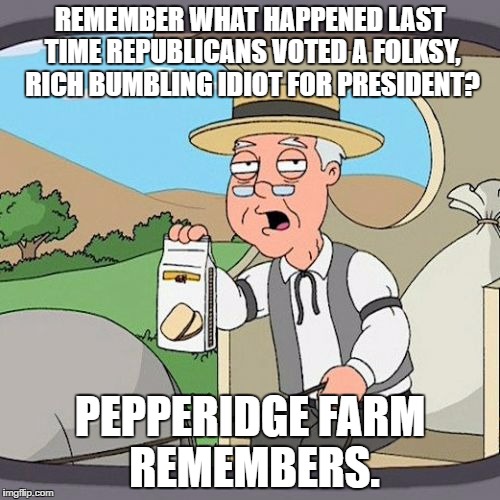 I suspected Donald Trump was nominated to scare people into voting for Hillary Clinton, but what if it was the other way around?
@TheSafestSpace: Cultural appropriation destroys cultures by sharing their best ideas with other cultures…
Americans, don't forget to exercise your right to vote on rigged elections today… if you're into that sort of thing.
I wouldn't be surprised to learn that life is just a reality TV show that God and angels have been binge-watching on celestial televisions.
You can tell an economy is broken if it costs a month's wages to fulfill annual responsibilities like car repair and dental work.
It wouldn't be so important to "get your shit together" as young as possible, if the system wasn't designed to set you up for failure.
The sentence, "I like my ice crushed, but he likes his cubed," isn't interesting at all… unless an identical twin says it.
Christianity would benefit from churches paying taxes, because it would reduce con artists' incentive to open churches and preach bullshit.
Life is more about what you are than what you have.
You go on vacation to find relief, only to find more of the same extortionate price gouging that was stressing you out in your home town.
Corporations won't let politicians give us election day off. Why should they lose a day of our labor to vote on what they already decided?
Election day should be a national holiday almost as much as elections shouldn't be rigged.
I wish Fitbit could make a device that, instead of measuring your heart rate, measures what a entitled, whiney, unrelenting asshole you are.
The more non-violent protesters cops arrest, the more they make violence inevitable by proving non-violence is not an option.
Soldiers giveth freedom, and police taketh away.
Every social justice warrior's posts on social media are made on devices invented by men, assembled by slaves, bought from capitalists.
American style freedom: In New Orleans, you can walk down the street drinking a beer, but can't buy it without an ID, even if you're elderly.
I bet God dies inside a little every time humans pave over more nature to build more strip malls and suburbs.
Americans dress like other cultures on Halloween because consumerism is America's culture.
There's a fine line between courage and stupidity.
Bourbon Street in New Orleans looks like a dream at night. It looks like a broken dream in the day light.
Anytime you send food back at a restaurant, assume whatever you get back has spit in it, even if your complaint was valid.
Doing things that improve your life = worldly success. Succeeding at the expense of other people's quality of life = existential failure.
Those who entertain the most ideas without evidence see farthest. Those who believe the most ideas without evidence, see shortest.
Expect a man to do recurring yard work and nobody bats an eye. Expect a woman to do recurring housework and everybody loses their mind.
When you speak angrily to your lover, you may get what you want, but they'll walk away feeling like your enemy or victim.
The dullest pencil has a better memory than the sharpest mind.
If any religion has instructions on killing, it'd be foolish to say, "As long as nobody gets hurt, who cares what religion people believe?"
The popularity of click-and-wait smart phone games proves if humans don't have stress in our life, we'll create it.
It really illustrates who the government works for when cops arrest people protesting big businesses siezing and building on their land.
Dangerous adults aren't created when society fails to censor kids from bad ethics, but when society fails to teach kids functional ethics.
Demanding that the 1% pay reparations to the poor would be more accurate than demanding white men pay reparations to everyone.
I don't want a white history month, but if we're going to have a double standard, let's admit it officially with a white bashing month.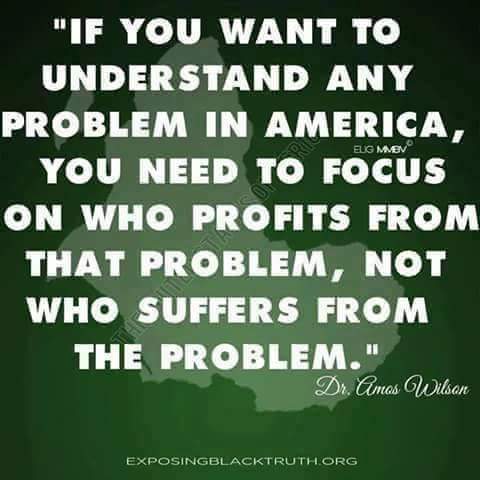 Lucky for me, living in the ghetto shelters me from meeting anyone pretentious enough to tell a complete stranger to check their priviledge.
Few politicians still support Trump. Less support fixing how/why the candidate selection process is designed to nominate deplorable people.
It's not an election if there are only two choices, both bad, but one so bad it would be insane to vote for them.That's a bait and switch.
American CEOs and investors tend to profit far more than American workers each time America goes to war.
Politicians shouldn't brag about lowering unemployment by creating new minimum wage jobs, because they're bragging about expanding slavery.
If you knew which subcultures distrust/defame cops most, you could surely predict which ones cops are least likely to trust.
Radio DJs play commercials and vapid pop music. So their job is to spread intellectual dystopia in the minds of the public. #NotYourFriends
Police didn't invent the stereotype that blacks are dangerous. Black gangsters spread that until it created the need for #BlackLivesMatters.
The more breaks you take from life's problems to watch mindless TV, the more you put off solving the problems hurting you and humanity.
Morality police criminalize breaking archaic, harmless taboos in TV but don't criminalize commercials, which teach harmful irresponsibility.
When everything costs $, $ is the means to freedom and empowerment. When businesses extort customers and employees, profits become oppression.
Employers and politicians that create poverty, deny people hope and self worth, which is unnatural, unnecessary and a step below murder.
News agencies still acting like the presidential election is legitimate and free, and aren't demanding new candidates, are part of the problem.
You rarely hear people who eat right and exercise regularly, complain about chronic fatigue.
Exercising makes you sweat. Sweat removes toxins from your body. Not exercising keeps toxins in your body affecting mood, energy and health.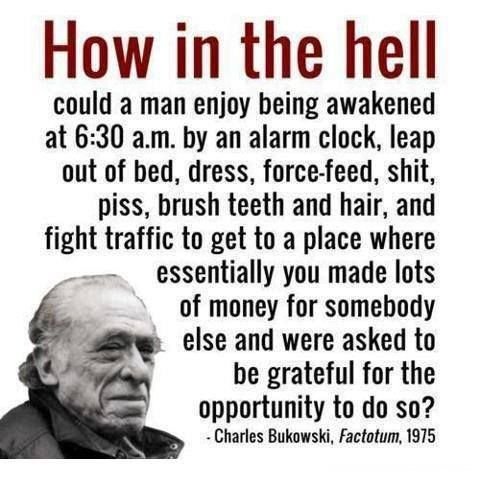 It seems convenient that an unpalatable presidential nominee, who is depending on the female vote, is running against a cartoon mysoginist.
Everyone loves freedom until you do something they wouldn't. Then freedom is offensive and frightening.
The more crappy TV you watch, the crappier your thoughts will tend to be.
Soldiers protect you from terrorists. Cops protect you from criminals, and Congress protects big business's profit margins from you.
Politicians call people who kill Americans, cowards. If that's true, it's more cowardly when they sell corporations the power to write laws.
On a long enough time scale, everyone is an immigrant. But in basically every country and culture in the world it's popular to hate immigrants.
Imagine you were given the freedom to vote between a gorilla and the mean cheerleader for senior class president #2016election #notarealvote
Hero + need + opportunity + condition + plan + decision.. drives hero to fulfill condition requirements to get that which satisfies the need.
Everyone should accept everyone wearing whatever they want. Nobody should accept anyone forcing anyone to wear something they don't want to.
What some people call, "depravity," other people call, "thinking outside the box."
It's possible to cope with everything being overpriced, but not when everything gets more overpriced the more of a necessity it is.
Unicorns are mentioned 9 times in the Bible. How many times does it need to be before it raises reasonable suspicion the Bible is mythology?
Writer's block is just anxiety and panic attacks. To master the art of getting through writer's block, Google "steps to overcoming anxiety."
I hope one day I get to see a Broadway show titled, "Poverty: The Musical."
If Facebook has taught us anything, it's that the first person to make a movie called "Cats VS Babies" is going to make a lot of money.
How many redundant studies do we need to reconfirm the known fact that porn doesn't cause psychological harm before we stop policing it?
You might think it says something good about society that we look at more cats on the internet than porn, but I worry about our cat fetish.
I loved the Ninja Turtles as a kid. Less after I realized if they came to my house, we'd probably never get the smell of sewer shit out.
When I watched the Matrix I was like, robots can build virtual reality biomass battery farms but not a tall pole to put solar panels on?
Every time I watch a movie where humans fight aliens, the whole time I'm like, both sides would have died immediately from the other's germs.
Think of humans as wind-up chimps on autopilot who don't realize they're on autopilot. Everything everyone does will make much more sense.
If equally hurtful when banks fine you for having $0 in your bank account, as it is when loan officers and credit card companies do it.
Psychological classical conditioning changes human behavior, which builds neural pathways we pass onto children, conditioning their behavior
There's a legal limit to the amount of rodent and insect parts allowed to be present in food sold in stores where, you know, vegetarians shop.
"Just because you're older doesn't mean you're right. More likely it means you've been wrong a long time." Keith Wagner
RT @elisadoucette: Drinking game for tonite's debate is to chug a bottle when it starts and try to mask the reality that we actually let it happen.
The prouder you are of the company you work for, the more evidence there is you have Stockholm Syndrome.
Every writer should tweet to gain experience condensing sentences to the bare essentials.
Suburbia sentences you to perpetual debt, which sentences you to perpetual fear and work, resulting in permanent loss of hope and freedom.
Living in suburbia requires you to perpetually buy/replace/repair expensive stuff you must work to pay for. It's like living in a labor camp.
If you're the only person in the world you care about, then why should anyone care about you? #parasite #karma