Exodus 21 
New King James Version (NKJV)
The Law Concerning Slaves
21 "Now these are the judgments which you shall set before them: 2 If you buy a Hebrew slave, he shall serve six years; and in the seventh he shall go out free and pay nothing. 3 If he comes in by himself, he shall go out by himself; if he comes in married, then his wife shall go out with him. 4 If his master has given him a wife, and she has borne him sons or daughters, the wife and her children shall be her master's, and he shall go out by himself. 5 But if the slave plainly says, 'I love my master, my wife, and my children; I will not go out free,' 6 then his master shall bring him to the judges. He shall also bring him to the door, or to the doorpost, and his master shall pierce his ear with an awl; and he shall serve him forever.
7 And if a man sells his daughter to be a female slave, she shall not go out as the male slaves do. 8 If she does not please her master, who has betrothed her to himself, then he shall let her be redeemed. He shall have no right to sell her to a foreign people, since he has dealt deceitfully with her. 9 And if he has betrothed her to his son, he shall deal with her according to the custom of daughters. 10 If he takes another wife, he shall not diminish her food, her clothing, and her marriage rights. 11 And if he does not do these three for her, then she shall go out free, without paying money.
The Law Concerning Violence
12 He who strikes a man so that he dies shall surely be put to death. 13 However, if he did not lie in wait, but God delivered him into his hand, then I will appoint for you a place where he may flee.
14 But if a man acts with premeditation against his neighbor, to kill him by treachery, you shall take him from My altar, that he may die.
15 And he who strikes his father or his mother shall surely be put to death.
16 He who kidnaps a man and sells him, or if he is found in his hand, shall surely be put to death.
17 And he who curses his father or his mother shall surely be put to death.
18 If men contend with each other, and one strikes the other with a stone or with his fist, and he does not die but is confined to his bed, 19 if he rises again and walks about outside with his staff, then he who struck him shall be acquitted. He shall only pay for the loss of his time, and shall provide for him to be thoroughly healed.
20 And if a man beats his male or female slave with a rod, so that he dies under his hand, he shall surely be punished. 21 Notwithstanding, if he remains alive a day or two, he shall not be punished; for he is his property.
22 If men fight, and hurt a woman with child, so that she gives birth prematurely, yet no harm follows, he shall surely be punished accordingly as the woman's husband imposes on him; and he shall pay as the judges determine. 23 But if any harm follows, then you shall give life for life, 24 eye for eye, tooth for tooth, hand for hand, foot for foot, 25 burn for burn, wound for wound, stripe for stripe.
26 If a man strikes the eye of his male or female slave, and destroys it, he shall let him go free for the sake of his eye. 27 And if he knocks out the tooth of his male or female slave, he shall let him go free for the sake of his tooth.
Animal Control Laws
28 If an ox gores a man or a woman to death, then the ox shall surely be stoned, and its flesh shall not be eaten; but the owner of the ox shall be acquitted. 29 But if the ox tended to thrust with its horn in times past, and it has been made known to his owner, and he has not kept it confined, so that it has killed a man or a woman, the ox shall be stoned and its owner also shall be put to death. 30 If there is imposed on him a sum of money, then he shall pay to redeem his life, whatever is imposed on him. 31 Whether it has gored a son or gored a daughter, according to this judgment it shall be done to him. 32 If the ox gores a male or female slave, he shall give to their master thirty shekels of silver, and the ox shall be stoned.
33 And if a man opens a pit, or if a man digs a pit and does not cover it, and an ox or a donkey falls in it, 34 the owner of the pit shall make it good; he shall give money to their owner, but the dead animal shall be his.
35 If one man's ox hurts another's, so that it dies, then they shall sell the live ox and divide the money from it; and the dead ox they shall also divide. 36 Or if it was known that the ox tended to thrust in time past, and its owner has not kept it confined, he shall surely pay ox for ox, and the dead animal shall be his own."
This chapter of the Bible raises at least four serious questions Christians should be asking themselves before trying to convert nonbelievers:
1. Did you even know these rules were in the Bible? 
I hope you didn't know these instructions were in the Bible. If you made a conscious decision to tell people they need to base their life on "The Good Book," knowing the full details of Exodus 21, then you're a terrifying human being.
If you know the Bible includes commandments on how to properly buy and sell men, women and children, and you don't mention it's part of the product you're selling, then you're marketing your brand unethically.
You're running a bait and switch scam. You lure recruits in with tales of love and peace. Then you pressure them to make a commitment before they have time to read the fine print. Only after they're invested, do you tell them the book they just agreed to follow includes rules on how to purchase and beat slaves.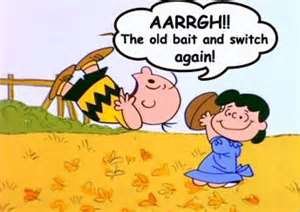 It would be impossible to convince anyone to believe in Christianity without using the bait and switch technique, because if the first verse you share with nonbelievers comes from Exodus 21, nobody will want to believe in your stone age god or his psychopathic teachings.
If you didn't know you were trying to convince people to base their life on a book that says the punishment for letting your ox gore your neighbor's slave, is to pay them thirty shekels, then you need to stop preaching immediately. Don't start again until you've read the entire Bible and highlighted every rule so you know exactly what you're getting people into.
2. Have you doubted your own arguments enough to be sure it's safe to bet your soul on them?
I've asked Christians to explain Exodus 21, and they said human hands corrupted the original texts in some places, which explains the inclusion of obviously flawed morals. So we don't have to take the barbaric stuff seriously.
But Exodus 21 isn't an isolated incident. It's par for the course in the Old Testament. When you put all its commandments in context, they paint a picture of a primitive, tribal theocracy that wrote its existing cultural values into their history, government, and religion.
To put Exodus 21 in context, The Ten Commandments are in Exodus 20:1-17. God's commandment that slave owners have to set their slaves free if they beat them so hard it crushes their eye, is just a few pages away, in the same list of rules, written by the same author, which, given the culture at the time, was probably a slave transcribing the words of his king/high priest.
If the scribes who wrote the Bible really did make mistakes, then how can you be sure you'll know them when you see them? Obviously, the stakes are life and death. If you didn't catch this hole, you could have easily sold your daughter into slavery.
If you believe the Holy Spirit will help you and your converts catch the rest of the men's mistakes in the Bible, consider that Hitler, David Koresh and the entire Westboro Baptist church all believed the Holy Spirit led them to the truth. The Holy Spirit tends to guide Christians to their preconceived beliefs so often, it could be evidence the Holy Spirit doesn't guide you anywhere; it could just the feeling you get when you use your subconscious to make decisions.
There are hundreds of religions in the world. Billions of people have felt their own version of the Holy Spirit lead them to different conclusions, which they're dead certain are true, and they use the inexplicable realness of their experience to justify believing in whatever mythology was most popular in the society they were raised in.
Statistically, you probably believe in a dubious mythology for selfish reasons. If there's even a 1% chance you might have fallen for the same trap, you owe it to yourself to question your conclusions more than your opponents' evidence.
3. Can you be 100% sure Jesus abolished these rules?
If you ask enough Christians to explain Exodus 21, sooner rather than later, a smart person you respect, will quote Jesus's words from Matthew 5:17:
"Think not that I am come to destroy the law, or the prophets: I am not come to destroy, but to fulfill." 
Then they'll wave their hand dismissively and say something like, "See? This passage means the pre-Jesus laws are obsolete, and God made a new covenant with man. So you don't have to literally make blood sacrifices on a stone altar to please God any more or follow any of his laws that bear a shocking resemblance to the cultural values of an ancient tribal theocracy."
This settles the issue nicely unless you put the passage in context. It goes on to say in Matthew 5:19-20:
"For verily I say unto you, Till heaven and earth pass, one jot or one tittle shall in no wise pass from the law, till all be fulfilled.
19 Whosoever therefore shall break one of these least commandments, and shall teach men so, he shall be called the least in the kingdom of heaven: but whosoever shall do and teach them, the same shall be called great in the kingdom of heaven.
20 For I say unto you, That except your righteousness shall exceed the righteousness of the scribes and Pharisees, ye shall in no case enter into the kingdom of heaven."
It seems pretty clear Jesus expected all the rules to stay in place, with the implied exception of the few laws he specifically reversed Yahwe's original stance on. Contrary to the creator of the universe's original commandments, Jesus said communities are no longer supposed to form well organized lynch mobs to beat adulteresses to death with rocks or ranchers who try to rescue an ox that's fallen in a well on the Sabbath.
I could be misinterpreting this passage, but so could your Christian mentors. You owe it to yourself to get a thousand different opinions on whether or not we're all supposed to follow all the rules in the Old Testament.
Even if everyone you ask agrees the only requirement to get into Heaven is faith, they could all still be wrong. Biblical scholars have been arguing for centuries if God still expects Christians to obey all his laws, including the ones about slavery.
If you've ever told a non-Christian it's safer to believe in God and hope you go to Heaven, then to stray and be wrong, then you should be enforcing the Bible's rules on slavery just to be safe. Or you should be questioning why you believe in a book that encourages selling your daughters and kidnapping foreigners.
Even if Jesus did retire some of the Old Testament rules, the following verses from the New Testament indicate slavery wasn't one of them:
Ephesians 6:5
" Slaves, obey your earthly masters with respect and fear, and with sincerity of heart, just as you would obey Christ."
1 Peter 2:18
"Slaves, in reverent fear of God submit yourselves to your masters, not only to those who are good and considerate, but also to those who are harsh."
Matthew 10:24
"The student is not above the teacher, nor a slave above his master."
1 Corinthians 7:20-25
"Each person should remain in the situation they were in when God called them. 21 Were you a slave when you were called? Don't let it trouble you—although if you can gain your freedom, do so. 22 For the one who was a slave when called to faith in the Lord is the Lord's freed person;similarly, the one who was free when called is Christ's slave. 23 You were bought at a price; do not become slaves of human beings. 24 Brothers and sisters, each person, as responsible to God, should remain in the situation they were in when God called them."
4. Why don't you obey Exodus 21?
If you truly believe the Bible is 100% divinely inspired, then you should be honoring all of Exodus's laws and many more like them. But you don't, and you never will, because they're in direct contradiction with everything you believe about right and wrong. If a Jewish or Christian dictator enforced these laws in a real country, you'd support America bombing it out of existence.
You don't, won't and can't obey Exodus 21, because your sense of right and wrong were already well established before you ever read the Bible. Every Christian has to cherry pick which passages to believe or make excuses for, because at least half of the morals in the Bible are obsolete.
If you don't believe me, put yourself and your fellow Christians to a test. Show this list of Bible verses to the Christians you respect most. Ask them which passage's moral values they agree with and live by, and which ones they disagree with and don't obey.
The passages they don't take seriously will be the ones that conflict with modern culture, which proves they cherry pick the teachings in the Bible they're willing to accept, based on what they already believe. Chances are, you'll accept/reject the same values, which should make you question how much you really believe in the Bible and whether you should continue coercing other people into accepting it as the ultimate authority on reality.
If you enjoyed this post, you'll also like these:
The Bible is mythology
Christianity is Harmful to Society
Preaching, witnessing and arguing with Christians
Christian Culture
My Tweets About Religion