1: Love yourself.
If you love yourself, you probably won't be afraid to talk to the opposite sex. You won't have reason to doubt yourself, and you won't be offended by rejection. You probably won't be rejected though, because you'll be an infectiously enjoyable person. When you finally settle down in a relationship, you'll probably make a great partner, because you'll have a lot of patience and be easy to get along with. And you won't even have to muster up inner strength to behave this way because it'll just be how you are.
If you look down on yourself and beat yourself up all the time, you've already set yourself up to fail at flirting and being in a relationship. You're going to give yourself a panic attack just stressing out over talking to the opposite sex in the first place. Your conversations are going to be forced and awkward for everyone involved. If you do ever get in a relationship, you're not going to make your partner smile, and eventually, your unhappiness will make them feel like a failure. In the end, they'll probably leave you for someone who lifts them up emotionally instead of dragging them down.
If this describes you, understand that no amount of inner strength is going to help you lift the rock crushing your morale. The problem is that you don't understand your true worth. Someone convinced you to base your self-worth on shortsighted criteria, and you need to talk to a therapist about realigning your perception of reality. You deserve to be loved, particularly by yourself. If you're willing to put a lot of work into getting laid or married, then put a lot of work into loving yourself. When you do that, you'll naturally cultivate most of the character traits that members of the opposite sex find attractive.
2: Find your target audience, and market yourself to them
Life is short, and you're not getting any younger. You don't have time to waste hoping your one true love falls in your lap by chance. Speed up the process by figuring out what kind of a person you're looking for. Then figure out what kind of places those people go. Then go there.
If you're already pursuing your passion in life, if you're already living somewhere you love doing things you love, then you're already in the perfect place to find someone who shares your values and goals. Just keep doing what you're doing, and there's a good chance you actually will run into your soul mate. If you're not pursuing your passions, then that's the first reason you haven't found someone you're compatible with. You're in the wrong place.
If you don't have any passions at all then there's nothing inside you to be compatible with. In that case, you'll be most compatible with other people who don't have any personality, and you might have the best chance of finding someone you click with at Wal~Mart.
3: Put your best foot forward.
Most people decide whether you'll ever have a chance of sleeping with them within five seconds of meeting you… before you even say a word. We're able to make that judgment so quickly because a picture is worth a thousand words, and the way you present yourself is equivalent to giving a silent dissertation about yourself.
This means, if you're going to stress out over how to get someone to have sex or fall in love with you, then stress out overlooking sexy and successful. If you can look sexy and successful, then even if you do screw up your pickup line, it won't matter because the other person will already be hooked. If you don't put any effort into your appearance, you may as well stop reading, because the rest of this guide isn't going to help you. Your target will have already made up their mind about you, and there will be little you can do to redeem yourself.
4: The first look
Every romantic encounter/relationship must follow this logical progression of events: Look, talk, touch, sex. Everything begins with a look. After all, how can you have sex with someone if you've never seen them? So the first thing you have to do in order to pick up a date is get them to look at you. If you already look good, they'll already be interested in talking to you.
If you can get all the other guys or girls in the room looking at you, then each individual person will want you more, because competition for a resource drives up the perceived value of that resource. If you're a rare resource that multiple people want, they'll each pay a higher price to beat the competition. For example, a sexy, successful musician doesn't need to flirt. He could actually be a horrible person, but if every girl in a crowd knows that every other girl in the crowd wants him, he can just sit back and let them pump up his value like a penny stock in a boiler room until the women are scratching each other's faces to win the man all the other girls want.
You can also use this concept to pick up serious dates. Find what you're passionate about in life, and then host an event related to your passion. If you love reading, start a book club. If you love music, host music classes or small concerts. Start a meetup group or find some other way to put yourself in a position where people you want to date will look up to you. That will attract the kind of people you're looking for in the first place, and those people will associate you as an alpha member of the pack. Then they'll be the ones using pickup lines on you.
5: The first talk
After making eye contact, the only way a romantic encounter can move forward is for the two people to talk. Both men and women overthink this way too much. In reality, talking to the opposite sex is simple and logical. I'll walk you through it.
When entering a flirting scenario, your first goal is to exchange names. Until they know your name, you don't exist, and they can't have sex with someone who doesn't exist. After you've exchanged names you become a real human being with a life and future. You also gain power over them. Dale Carnegie once said, "The sweetest word anyone can hear in any language is their own name." Flattery will get you everywhere, and it's flattering to simply hear your own name because it highlights your existence and makes you center of attention. When someone addresses you by your name, it means they know who you are, and that's intimate. If you ever hope to sleep with a person, you need to establish a consistent track record of shared intimate experiences. You can begin establishing a history of intimacy with another person immediately by simply using their name in conversation a few times.
Of course, they need to know more about you than your just your name to determine if you're worth sleeping with. Talking to them gives you the opportunity to shape their impression of you. You don't need to convince them that you're the most impressive human being to ever walk the earth. You just need to convince them that you're worth spending more time with, and you don't have to blow their mind to accomplish that. All you have to do is make them smile, and that's very easy to do. All you have to do is compliment them. But directly complimenting their physical body can come across as creepy. Instead, try complimenting their clothes or haircut, because when you compliment something they chose, you're not only complimenting their external appearance, you're also complimenting their decision-making skills. Plus, if you like something they like then that means you have something in common.
Excessively bragging about yourself usually backfires for several reasons. First, it makes you look like a selfish, arrogant prick. Even if you're not trying to be arrogant, people only want to be a little impressed by you. The bigger and better your life is than theirs, the more intimidating you are and the less you have in common.
Nobody wants to hear about your life anyway. Most people would rather talk about themselves than listen to you jerk yourself off. If you have no idea what to talk to a stranger about, just ask them about themselves. If you can get them talking about themselves, they'll probably have a great time talking to you even though they pretty much did all the work. That's not to say you should grill them on their entire life story. Just find out what they're interested in, and get them to talk about that. Actively listen, and try to throw in a witty comment, joke or compliment every once in a while to keep them smiling. If you can do that, they'll probably want to talk to you again.
6: The first touch
Everyone has a personal space bubble around them that strangers aren't allowed in. Eventually, you want the person you're flirting with to let you past all their defenses so you can experience their body completely. How do you transition from being completely shut out to being granted total access? The answer is one degree of intimacy at a time.
Suppose you meet someone you're attracted to, and the two of you end up hanging out on a regular basis for the next couple of weeks. If the only time you ever touch them is to shake hands, then their mind will subconsciously categorize you as a person who doesn't enter their personal space. The more normal that becomes, the harder it'll be to earn permission past their barriers. Sooner rather than later, you'll be stuck in the friend zone forever.
Ideally, you would find some excuse to touch your date the first time you meet, and handshakes and hugs don't count. The more times you make physical contact with another person, the more their mind associates you with physical contact, thus the more receptive they'll be to having more physical contact with you. Obviously, you don't want to go around groping people, but there are plenty of innocuous ways to touch someone: hugs, pats on the back, shoulder massages, playful shoves, accidentally bumping into them, handing something to them and making sure your hands accidentally touch, feeling their clothes, etc. You can even plan to do activities together that involve physical contact like playing basketball.
Touch is also important because it has powerful and meaningful emotional effects. Babies will die in their cribs if they're not touched. People who receive massage therapy will sometimes cry or laugh hysterically because the physical touch of the therapist triggers a somato-emotional release. Human touch can have a powerful effect on the human psyche. It's powerful almost to the point of being magical. This is valuable to know in life in general. If you want to heal someone or bring them closer to you, then touch them more often.
Everyone in the dating scene is looking for someone who will hold them in their arms and make them feel safe. The sooner you establish a pattern of safe physical contact, the sooner they'll start looking at you like the person who is going to hold them for the rest of their life… or at least the night. The longer you go without touching them, the more their subconscious will associate you with touching.
7: Take a chance.
Women can separate the boys from the men just by standing around and seeing who has the courage to talk to her. Introducing one's self is just the first test you have to pass to get laid or married. At the end of the first conversation, you'll need to ask for the other person's number and schedule a date. After you've been involved with someone romantically for a while, eventually you'll want to risk confessing your love to them and maybe ask them to spend the rest of their life with you.
It can be scary to ask someone to take their relationship with you to the next level, but the only thing there really is to fear is fear itself. If you love yourself, you can survive and thrive on your own. If someone turns you down, you look at it as their loss… not that anyone has to be the bad guy. There are plenty of fish in the sea, and most of them aren't right for you anyway. Finding love is like inventing the light bulb. You have to find 10,000 things that don't work in order to find the one that does. So getting rejected is usually more of a win than a loss.
Asking for someone's telephone number or hand in marriage might seem like putting your head on the chopping block, but that would only be true if the person you're hitting on is an executioner. Most people don't look forward to judging and hurting everyone who hits on them. We want people to hit on us, and we want them to succeed. Even when we do turn someone down, we usually don't see them as pathetic losers who stuck their nose where it didn't belong. We see them as that person who had the confidence to punch above their weight class.
You might strike out the first time you go up to bat, but the game isn't over until everyone is married or dead. If someone turns you down, and you take it with dignity, make a joke out of it, and let them know they may still have a chance with you if they ever change their mind, there's a good chance that the next time they're deciding who to drunk dial, they might remember how confident you were in the face of defeat. Then they might decide they want someone strong like you to hold them tonight.
I'm not saying that only incomplete, immature people feel fear and shame. Fear is healthy, and the secret to overcoming fear isn't to avoid it. The secret is to feel it and do the thing you're scared of anyway. The more times you do that, the less fear will paralyze you. Also, it's a sign of good mental health for you to feel pain when someone you care about rejects you. That means you're human. But you simply can't make a categorical imperative out of letting fear prevent you from taking risks.
If you risk nothing, you gain nothing. If you do nothing, you'll never live. You won't lose the game of life by striking out. You'll lose by never showing up to the game. Ironically, you don't actually risk anything by flirting. The only way flirting will hurt you is if you beat yourself up over it. If you don't beat yourself up, then there are no risks. There are only potential gains, and you stand to gain everything you've ever wanted.
It can be confusing for men to figure out when a woman wants him to take their relationship to the next level. Women often talk around what they're trying to say and drop hints leading to what they're really trying to tell you, leaving men in the dark as to where they actually stand with her. You could try asking her straightforward, but she still might not give you a straight or honest answer. A good way a man can gauge a woman's intentions is to ask himself, "How much attention is she paying to me, and how hard is she trying to impress me?" If she's going out of her way for you, she's telling you something. If she's not, then she's not that into you.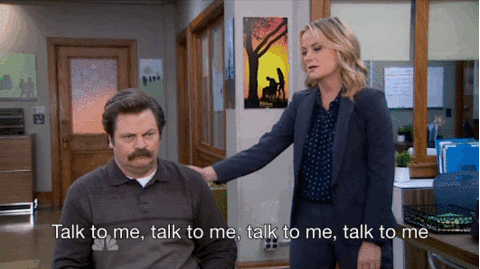 Women also misunderstand how men communicate. Men don't communicate with each other by talking around what they're saying and dropping hints. They communicate by speaking directly and saying what they mean. If you want to tell a man something, it helps to speak his language. If your man isn't getting the hint, don't rack your brain trying to figure out a better way to drop hints. The problem isn't that you're bad at dropping hints. The problem is that you're playing cryptic mind games instead of speaking directly to him in his native language.
If you see a sexy guy anywhere, you can just walk up to him and say, "Hey, you seem interesting. Feel like talking?" He'll probably thank his lucky stars he found a girl he doesn't have to play mind games with, and he would probably love to talk to you. However, it would creep a lot of men out if a woman approached him and said, "You're hot. Let's have sex." Granted, there are a lot of men who would agree to have sex without even thinking about it, but they may view that woman as desperate, which means they can do better.
Women, after the first date, and for the rest of your life, you don't need to play games with men to get them to like you. All you have to do is communicate openly with them. If/when you do talk around what you're really trying to say, drop hints, and play mind games, your man probably won't understand what you're trying to tell him, and it will frustrate him. Also, understand that when your man communicates with you, he's probably going to speak to you directly. The younger he is the more likely he is to not even know that men and women communicate differently. I'm not saying it's every woman's responsibility to think and act exactly like a man all the time. I'm just forewarning you what to expect from men.
8: Continue to look and be attractive, successful, ambitious and kind
First impressions are important, but every day is important, and the best always have style. If you only own one nice pair of clothes that you wear to parties, you're going to slowly lose your partner's interest. If you always dress to impress and wear nice underwear, you'll continually rekindle your partner's interest in you.
If you don't have a stable job or any ambitions then you're not a good catch. You're a liability. You might be cute, funny, genuine and inspiring, but you can't buy baby clothes with a great personality. I'm just saying, don't expect someone to take care of you for the long haul if you can't take care of them at all.
The more you can make a person smile the first time you meet them, the more they'll want to see you a second time. The more you make a person smile the second time you see them, the more they'll want to see you a third time. If you make them smile every day, they'll look forward to seeing you every day, but when you stop making them smile they'll stop wanting to be around you. You make people smile by looking attractive, having a refreshingly positive outlook on life, being funny, supportive, witty, useful and good at sex.
It's also worth emphasizing that compliments aren't just for first impressions. Everyone wants to have sex with someone who can make them feel beautiful and special for a night. Everyone wants to spend the rest of their life with someone who always makes them feel beautiful and special.
If you always present yourself as sexy, successful, confident, ambitious and pleasant to be around, then you won't have to chase after love interests. All you'll have to do is keep showing up and being a joy to be around, and love interests will chase after you. In fact, if you have to constantly chase after someone and fight and beg for them to pay attention to you, you're probably wasting your time. If they were interested in you, they'd already be paying attention to you.
If you keep pestering someone long enough, you might be able to win them over. But before you go through all that trouble, ask yourself what it says about them that they don't already recognize how wonderful you are? Sure, they might have some virtues that make them worth pursuing, but life is short, and there are millions of wonderful lovers out there who would go out of their way to be with you if they only knew you existed. It would probably be a better use of your time to look for those lovers instead of trying to convince someone who's just not that into you that they're wrong about what they want.
The more desperately you want someone, the more power you give them over you, and the less likely they are to ever date you. This is petty, but we don't do it because we're evil. We do it because our brains are so extensively designed to operate on autopilot that very we're easy to manipulate. You see, everyone is looking for the most valuable mate, and if we can date out of our league, so much the better for us and our children. Also, when there's a lack of supply of a resource, the perceived value of the resource increases. For these reasons, it makes you look like more valuable mate when someone knows they can't have you.
On the other side of the coin, when you stalk someone, you send the message that they're out of your league. Even if you really are a great match for them, they might not recognize it after you get done telling them what a small fish you are.
This is a big part of why women have a reputation for dating jerks instead of nerds with a heart of gold. This is also why some of the more sociopathic dating guides instruct men to insult women. Sadly, it often works, because it creates the perception that the man is out of the woman's league. In my opinion, if you're hurting and consciously manipulating your date then you've failed at being a good lover and a good person. So I wouldn't suggest insulting your date. You don't have to establish your dominance over them anyway. Just be their equal, and don't go out of your way to put yourself beneath them.
9: Have fun.
You usually have to take someone on a few dates before they let you have sex with them, and you usually have to court them even longer before they'll let you marry them. This raises the question, how do you keep someone interested in you throughout the courtship phase, let alone the rest of your life?
All you have to do to keep someone interested in you is keep them smiling. Unfortunately, men and women both make this way harder than it has to be. If you're stressing over how to make someone smile, you're overthinking it. You don't have to do much. You almost don't have to do anything. As long as you do the things that make you smile, then chances are you're going to make the people around you smile. If you're taking care of yourself, and you're happy with your life, then you'll be fun to be around. If you don't fulfill your own wants and do the things you enjoy, then you'll sulk around like the hollow vessel you are. So, if you want people to enjoy being around you, then just have fun yourself, and your good vibes will infect everyone around you.
If your schedule is already filled with personally rewarding activities, then you won't need to rack your brain trying to figure out where to take a date. Just bring them along with you to do the things you were going to do anyway. They'll have fun, and it'll help them get to know you. You'll demonstrate how interesting and proactive you are, and if they don't enjoy your favorite activities, then you'll know not to invest any more time pursuing a deeper relationship with them. That date didn't fail. It succeeded in informing you to move on.
Remember that the person you're flirting with is also an independent person who has their own interests. The quickest, easiest way to make people happy is to give them what they want. So if you want to take someone on a date that they'll be sure to enjoy, just find out what their interests are, and then cater to those interests. If they love the symphony, then buy two tickets to the symphony. If they like hiking, then plan a hiking trip. If they like dogs, then do something with dogs. You don't need to sit around racking your brain trying to figure out what to do to make someone happy. Just ask them what they like to do, and then go do those things with them.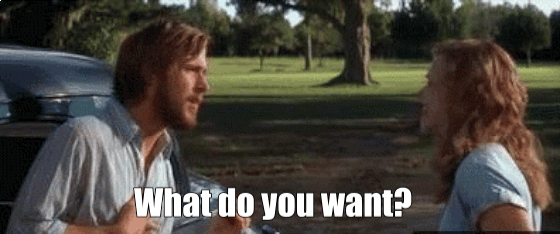 10: Be yourself.
The meaning of life is not to be someone else's slave. If you change everything about yourself to please someone else, that makes you a hollow, empty person. If you succeed at impressing your date that way, you'll fail at the larger goal of becoming yourself. If you never become yourself, then you'll never fulfill any of your own goals with which to draw purpose, happiness, and confidence from. Then there will be nothing for your partner to connect to, let alone admire in you. Sure, you'll be a great slave, but you'll be boring and emotionally unsatisfying. Plus, as pleased as your partner may be by your obedience, they'll come to see you as unworthy of their love since you made it so clear how out of your league they are.
Men who dress like Don Draper and women who dress like Jessica Rabbit will get dates, but that doesn't mean you should. It's mentally unhealthy to change everything about yourself to please another person, and the goal of dating isn't to impress every person you talk to anyway. The goal is to find the right person for you. If you succeed at bringing the wrong person home, then you've failed at dating. If your date won't accept you for who you are, then they're not the person you're looking for anyway. Be yourself, and be relieved by the fact that your unique style is going to drive away at least a third of the dating pool, because the more people who run away from you, the easier it is to pick out your soul mate from the people who are left.
If you enjoyed this post, you'll also like these:
Sex positions and techniques
General Sex Advice
Dating Advice
Relationship Advice
Philosophy of Sexuality
Friendship
My Tweets About Romance